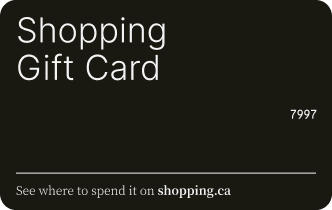 One gift card, a world of options.
Give the gift of choice!
A simple and safe option, our e-gift card is sure to make someone's day when it arrives in their email on the date you choose.
Corporate Incentives & Rewards
Give your employees and business partners what they really want: the gift of choosing for themselves.
Quick and easy
It only takes three clicks in the comfort of your own home, on the bus or at work to purchase a gift that's always sure to please. Now that's convenient!
Always a nice surprise
The person you want to treat will be utterly delighted with their gift card and can use it as soon as it arrives by email. You can't go wrong with this simple, versatile gift!
So many shopping options
Whether you're treating yourself or someone else, the gift card is valid at most of our retailers, as well as our other shopping centres across Canada. One gift card, a world of possibilities.
Frequently asked questions
What is the Shopping.ca gift card?
The shopping.ca gift card can be used to purchase items at participating retailers located in any one of Ivanhoé Cambridge's shopping centres nationwide. To see a full list of shopping centres,
click here
.
In 2019, Ivanhoé Cambridge launched an improved gift card program that runs on the American Express network and replaces the grey Mastercard Ivanhoé Cambridge gift card. If you currently have an Ivanhoé Cambridge gift card, to check your balance,
click here
Are there any fees on the Shopping.ca gift card?
There are no purchase or account maintenance fees assessed against the card in this new program.
In what denominations can I buy the gift card?
The gift card can be purchased in denominations ranging from $25 to $1,000 .
Do all retailers in Ivanhoé Cambridge shopping centres accept this new gift card?
While most retailers accept the Shopping.ca gift card, a few do not participate in the program. You can consult the Store section of your local shopping centre's website or
click here
for a complete list of stores accepting the gift card across Canada.
Do the funds on the gift card expire?
Gift card funds do not expire. However, the plastic card has an expiry date set for 5 years from the date it was printed, which is the date indicated on the front of the gift card. Upon plastic expiration, you can get a new card by contacting Customer Care toll-free at 1 (833) 350-2461 to obtain a free replacement card or visit Guest Service at an Ivanhoé Cambridge shopping centre. Your balance will be transferred to a new replacement shopping.ca gift card.
Is there a limit to the amount I can purchase online?
The maximum amount that can be purchased in a 24 hour period is $2,999, with a transaction limit of 1 per customer, per 24 hour period. The maximum amount on a gift card is $1000.
Did you buy or receive this card?